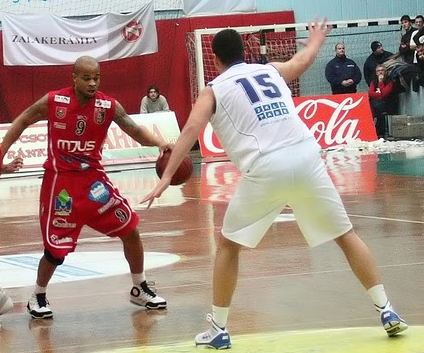 - Unlucky game end in Zalaegerszeg. What do u think about the game? How did u see the game from the court?

- It was hard fought game, we made mistakes at the end and didn't play like we should play in the 4th quarter

- This Your 2nd season in Hungary. What do think about the league?

- Its a solid league..im enjoying myself for this oppurtunity and thankful for God.

- Last year u played against our team. So before you came here you knew us. What was your opinion before u come?

- I love the fans here..the fans here is better than my team from last year and i love it.

- And what is your opinion now after playing in Körmend?

- Again the fans and the people in the community make me feel wanted here and thats a good feeling.

- What are the strengths of our team?

- When were playing well we can beat anyone..

- What are the weak points where we have to develop?

- Learn to play together for 40 minutes and stay together

- What do u think what are your personal strengths and what is the weakpoints where you can do more?

- Team leader and energy player..and my weakpoints i need to be vocal at times more on the court.

- What is your relationship with Sabi? What do u think about him?

- We cool, i do my job and he does his job..thats about it..he's a good coach ..also coach haunint.

- So far it seems that the team is playing very well now. What do u think what this team can achive in this season?

- Stay injury free n make a fee changes n get better on the court, we can win the championship i think.

- Who can be the finalist in the championship?

- Körmend and ZTE.

- Do You follow NBA? Who is your favourite team and player?

- Lakers and Kobey Byrant and Gilbert Arenas.

- What about girls? Do u also like Hungarian girls like your teammate JT? R u single and waiting for the real one?

- Hahah Hungary gurls are pretty but i dont have a girl here..just chilling man ..

- Please say something to the Fans of the Team.

- Stay being good fans ..Becase we are fighting to bring a championship back here to Körmend this season.